LIBOR Transition Summary
In 2017, the Financial Conduct Authority (FCA), which regulates LIBOR, announced it would no longer guarantee LIBOR production beyond 2021. The impending end of LIBOR has become a key issue facing financial markets as it is one of the most widely used reference rates, with nearly $200 trillion of derivatives, loans, securities, and mortgages referencing USD LIBOR (as of 2016). With such a considerable volume of contracts tied to LIBOR, a smooth transition from LIBOR to a new reference rate is crucial to the stability of financial markets.
The Federal Reserve tasked the Alternative Reference Rate Committee (ARRC), a group of market participants, with developing a rate to replace LIBOR and ensuring a successful transition. In 2017, the ARRC identified the Secured Overnight Financing Rate (SOFR) to be the recommended successor rate to USD LIBOR.
Since SOFR was identified to replace LIBOR in the United States, a paced transition plan has been underway and led by the ARRC. As LIBOR is wide-spread throughout the financial markets, it is possible that members will be affected by the transition. The FHLBank Chicago has published Frequently Asked Questions and a Transition Primer PDF to inform our members on the transition progress, market developments, and suggested action items from ARRC and ISDA.
FHLBank Chicago is continually monitoring SOFR developments from ARRC and in the markets and will continue to update our members.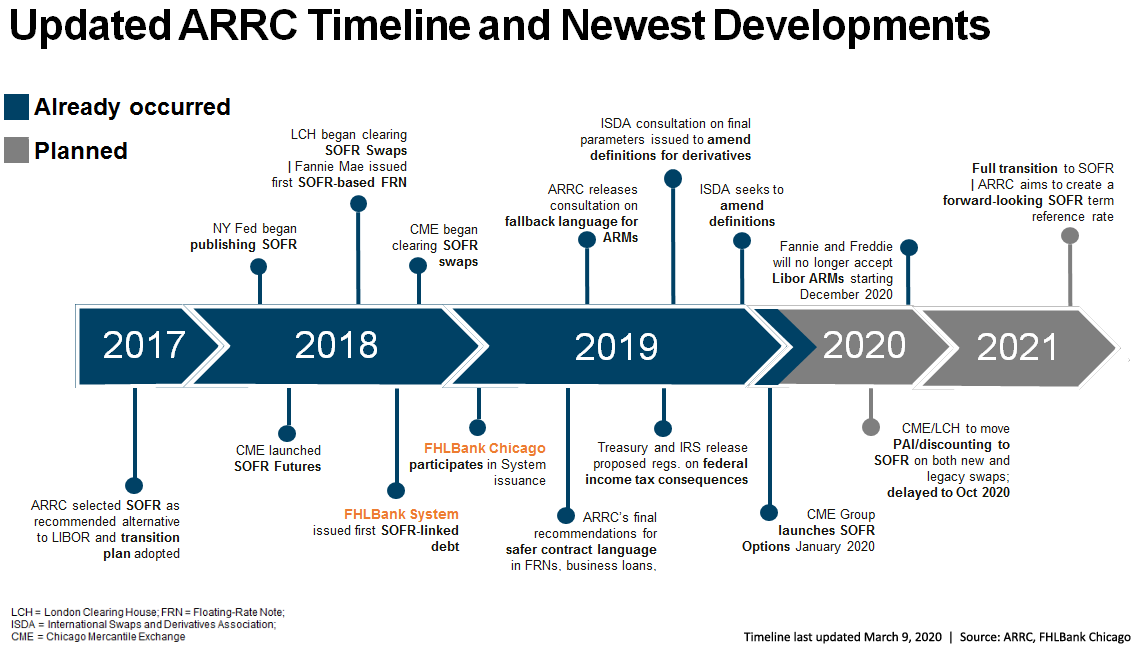 LIBOR Transition News from FHLBank Chicago
Recent LIBOR Transition News
March 2, 2020 | The Federal Reserve Bank of New York began publishing 30-, 90-, and 180-day SOFR Averages as well as a SOFR Index on its website. It plans to publish indicative historical rates for these averages and the index in the coming weeks.
February 5, 2020 | The Federal Housing Finance Agency (FHFA) announced new steps to be taken by Fannie Mae and Freddie Mac as they transition away from LIBOR. New language will be required for single-family Uniform Adjustable Rate Mortgage (ARM instruments closed on or after June 1, 2020. All LIBOR-based single-family and multifamily ARMS must have loan application dates on or before September 30, 2020 to be eligible for acquisition. And lastly, acquisitions of single-family and multifamily LIBOR ARMS will cease on or before December 31, 2020.
November 15, 2019 | Fannie Mae announced it will be implementing ARRC's recommended fallback language into the uniform notes and other legal documents for ARMS. Additionally, Fannie Mae will offer several new ARM products based on SOFR, with more details forthcoming in 2020.
October 22, 2019 | The CME Group also developed a high-level proposal for transitioning price alignment and discounting for USD-denominated over-the-counter cleared swaps from the effective federal funds rate to SOFR.
October 21, 2019 | The ISDA summarized responses to a consultation on how derivatives contracts should address a regulatory announcement that LIBOR or certain other interbank offered rates (IBORs) are deemed no longer representative of an underlying market.
October 8, 2019 | The United States Department of the Treasury and the Internal Revenue Service released proposed regulations providing tax relief on tax issues that may arise as a result of the modification of debt, derivative, and other financial contracts from LIBOR-based language to alternative reference rates.
September 24, 2019 | The ARRC closed a consultation on proposed improved fallback language for new Adjustable Rate Mortgage (ARM) contracts that reference USD LIBOR in order to mitigate the risks associated with the potential end or disruption of LIBOR after 2021.
September 19, 2019 | The ARRC released a practical implementation checklist with ten key areas to help market participants transition away from U.S. dollar (USD) LIBOR to using the Secured Overnight Financing Rate (SOFR)
September 18, 2019 | The ISDA published its consultation on final fallback parameters for derivative products based on the preferred approaches listed below. Rate: SOFR Term Adjustment: Compounded Setting in Arrears Credit Spread Adjustment: Historical Mean/ Median Approach Both the amended 2006 ISDA Definitions to be applied to new LIBOR trades and the fallback protocol for legacy IBOR contracts are expected to be finalized by the end of this year, with implementation in 2020.
September 17, 2019 | The CME Group announced that CME SOFR futures became a trillion-dollar market. Record single-day volume of $670 billion was traded with $1.17 trillion in open interest, in response to the upward pressure in the repo market.
September 4, 2019 | The CME Group announced it will launch options on 3-month SOFR futures starting on January 6, 2020, pending regulatory review.
External Resources
Frequently Asked Questions

Last updated June 6, 2019.
Contact your Sales Director for more information.

FHLBank Chicago and Member Developments
Disclaimer
The data and valuations provided on this page are for information purposes only and are provided as an accommodation and without charge. The Federal Home Loan Bank of Chicago makes no representations or warranties (express or implied) about the accuracy, currency, completeness, or suitability of any information in this presentation. This presentation is not intended to constitute legal, accounting, investment or financial advice or the rendering of legal, accounting, consulting, or other professional services of any kind. You should consult with your accountants, counsel, financial representatives, consultants and/or other advisors regarding the extent this information may be useful to you and with respect to any legal, tax, business and/or financial matters or questions. In addition, certain information included here speaks only as of the particular date or dates included in this presentation, and the information in the presentation may have become out of date. We do not undertake an obligation, and disclaim any duty, to update any of the information in this presentation.
Because the transition from LIBOR to SOFR continues to evolve, information here may become stale at any given time. Last updated June 6, 2019.