Morning Market Update: March 21, 2019
Treasurys Rally in Mixed Equity Trading on FOMC Rate Decision
Commentary for Wednesday: Treasurys rallied considerably as equities ended mixed. The NASDAQ increased on the day, while the S&P and Dow decreased. Yields were initially little changed in quiet overnight trading but shifted modestly lower throughout the morning. Yields dropped following the FOMC's rate decision to leave rates unchanged and a press conference held by Fed Chair Powell, which showed a dovish stance and cuts in the economic forecast. Yields ended as much as 10 basis points lower in the four to seven year sector.
This Morning: Treasury yields are shifting higher following a stronger-than-expected March reading of the Philadelphia Fed Business Outlook.
The Federal Open Market Committee (FOMC) announced no change in the federal funds target range at the January 2019 meeting. The updated dot plot now shows that the majority of participants expect no rate hikes in 2019, one rate hike in 2020, and no further hikes in 2021. The long-run median remains at 2.8%. Further, in the Fed's Summary of Economic Projections, the median 2019 GDP forecast was cut from 2.3% to 2.1% and inflation from 2.0% to 1.8%. The median unemployment rate, however, rose from 3.5% to 3.7%. Finally, the Fed also gave more guidance on its balance sheet runoff plan. Runoff is expected to end altogether in September 2019, and then it will hold its portfolio size constant until the amount of excess reserves is optimal.

Fed Chairman Powell spoke at a press conference Wednesday and stated, "We're almost 10 years deep in this expansion and inflation is not clearly meeting our target. That's one of the reasons that we're being patient." He also said, "It may be some time before the outlook for jobs and inflation calls clearly for a change in policy."
Financial Markets Research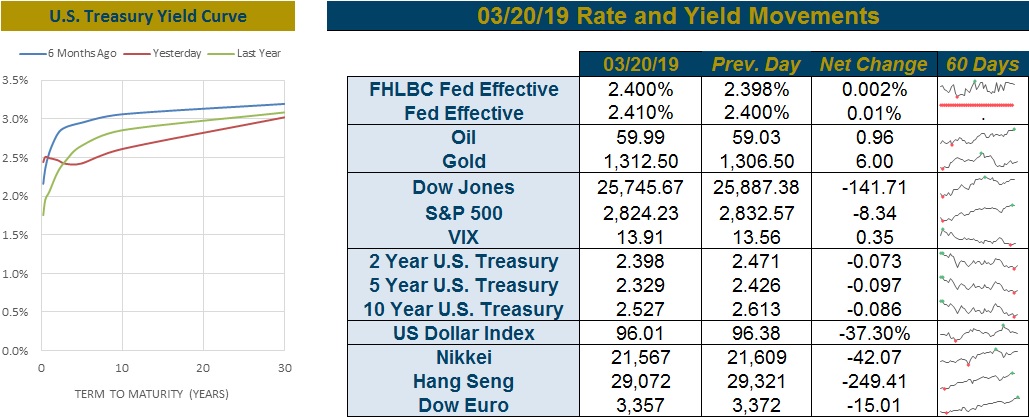 The morning market update is provided by: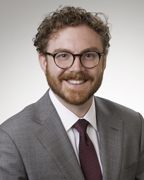 James Hotchkiss
Director, Member Strategy and Solutions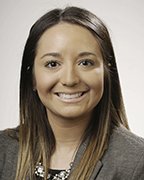 Melissa Deven

Director, Member Strategy and Solutions




Disclaimer
The data and valuations provided in this document are for information purposes only and are provided as an accommodation and without charge. The Federal Home Loan Bank of Chicago makes no representations or warranties about the accuracy or suitability of any information in this document. This document is not intended to constitute legal, investment, or financial advice or the rendering of legal, consulting, or other professional services of any kind.